The MAINPORT ePortfolio Quick Start Guide
Welcome to your MAINPORT ePortfolio! This guide will help you get to know the ePortfolio developed for the Royal College's Maintenance of Certification (MOC) Program. You will also become familiar with some common tasks, such as entering, deleting or revising a CPD activity.
In MAINPORT ePortfolio, you can
Reflect, plan and manage your continuing professional development.
Document your learning activities and outcomes.
Access credit-earning learning resources and programs.
To log in to MAINPORT ePortfolio, you will need your Royal College ID number and password.
NEED HELP?
Contact the Royal College Services Centre at 1-800-461-9598/613-730-6243 or cpd@royalcollege.ca.
Contact your local CPD Educator — visit CPD Educators for details.
How to enter a CPD activity
Click on the Enter a CPD Activity button.
Choose the type of activity you plan to document by clicking on the drop-down arrow beside Group Learning, Self-Learning or Assessment Activities.


Enter information for all required fields marked with red asterisks.


Respond to at least one of the three Reflection questions and click Continue.


Answer any of the following optional questions and click Submit.
How to revise/delete a CPD activity
Click on the My CPD Activities List tab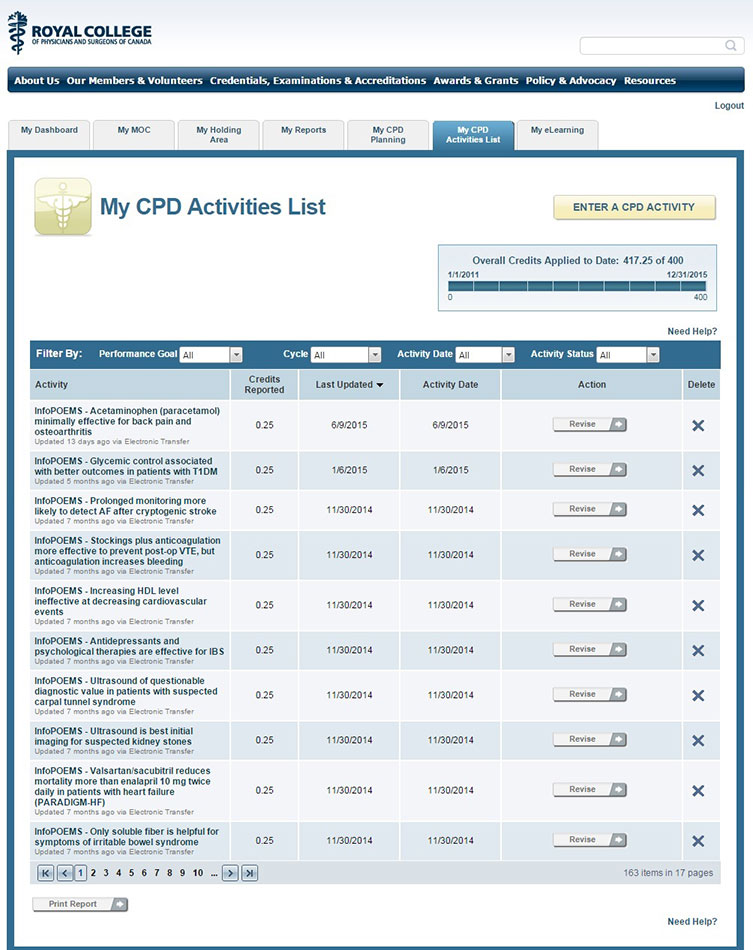 Revise a CPD activity
Under the Action column, click the Revise button beside the activity you want to update.
This will display what you have already documented using this specific activity's template.
Make any necessary revisions and then click Submit.
Delete a CPD activity
Underneath the Delete column, click the X beside the CPD activity you want to delete.
A pop-up warning will appear to confirm that you want to delete the activity.
Click OK to delete the activity.
My MOC Page
Use this tab to
Enter a CPD activity
Check your credits applied to date in Group Learning, Self-Learning and Assessment
Check your list of activities reported in a specific section
Review your Overall Credits Applied to Date in a bar graph that represents your current cycle
My Reports
In this tab you can call up a variety of reports, such as your credit summary, transcript of CPD activities, yearly adherence report and cycle completion certificate.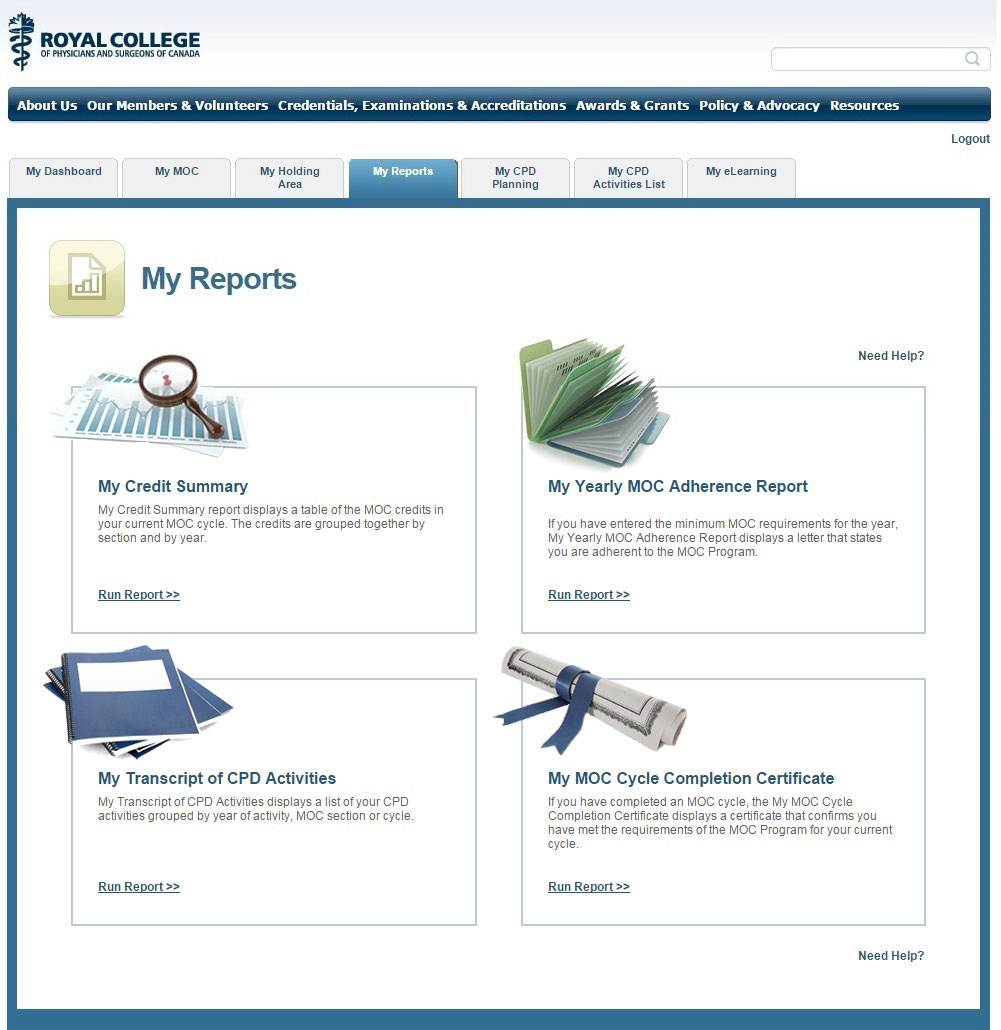 My Holding Area
My Holding Area displays up to three types of activities that are awaiting your action: Incomplete activities (you are still completing), uploaded activities (requiring further information) or activities awaiting credit validation. Because these activities have yet not been applied to your MAINPORT ePortfolio, they will not contribute to your credit summary.
The most recent holding area activities also appear on My Dashboard.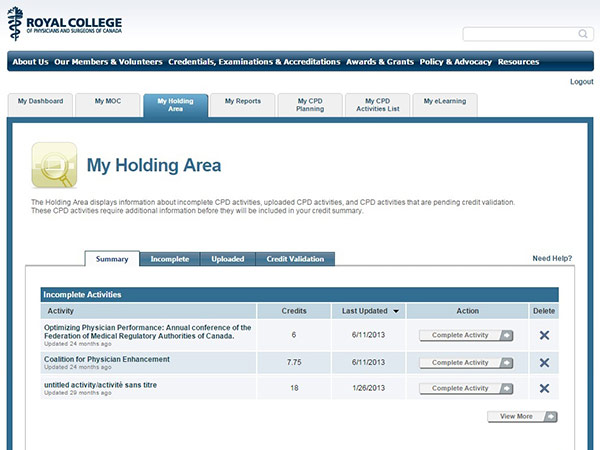 Need some inspiration?
Get the most out of your MAINPORT ePortfolio's robust functionality:
Set a goal on My Dashboard: Describe your goal, develop an action plan to achieve it, set a date to complete it and track your progress over time.
Personalize your dashboard by adding your own links to My Resources.
Use the My eLearning tab to access online CPD activities developed by the Royal College and our partners.
Develop a personal learning plan using the CPD Planning Process tool on My Dashboard.
Download the MAINPORT Mobile app

for iPhone on the App Store
for Android on Google Play
Royal College Services Centre
Tel: 1-800-461-9598/613-730-6243
Email: cpd@royalcollege.ca
Visit royalcollege.ca/mainport