Essential Guidance for Quality Improvement
Royal College MOC Supports QI Implementation
In collaboration with partners and stakeholders across the health care system, the Royal College is evolving its Maintenance of Certification (MOC) Program to integrate quality improvement (QI) and physician lifelong learning1,2,3. In small, practical increments, this renewed CPD strategy aims to be more relevant, improvement-focused, and user-friendly, enabling physicians to achieve care outcomes and/or continued personal-professional growth important to them and their patients.
Some specialists may be unfamiliar with QI principles4 and thus have difficulty connecting them to important improvement work they already do. Others might be challenged with identifying how to apply QI towards a specific personal development goal, professional practice role (e.g. clinician, educator, administrator) or during a career transition.
The following guidance aims to address these issues and provides
an introduction to understanding QI science;
tools, resources, and illustrative examples to help make connections between QI and existing professional practice;
help to start planning, implementing, and reporting new QI initiatives in current professional practice; and
direction on how to claim QI activities for MOC Program Section 3 (3 credits per hour).
What is QI?
What is QI?
New to QI and need a brief introduction? Maybe you'd like to know how this Essential Guidance to Quality Improvement fits in the current MOC Program. This section introduces the model for improvement (MFI) and its guiding questions to get you started.
Definition:
Quality improvement (QI) is a generic, robust, and action-oriented problem solving framework that supports you in elevating the current state of your practice, personal, or professional development. Depending where you want to focus improvement efforts, it may mean, for example, improving the delivery of patient and family care, your own mental health, delivering a more effective curriculum, and/ or using resources wisely.
The first part is about you, your team, and/or your health system assessing an area that needs improvement and establishing an aim.
Once you have identified the area of need, the next part is setting a plan of action in motion with the goal of improving the quality of either a process or outcome. For example, reflecting on the outcomes, and planning a course of action to continue the delivery of better patient care are critical pieces in ensuring quality care 5.
Videos:

Quality Improvement in Healthcare

A Good First Step to Any Improvement Project
Summary: In this 4-minute animated video, Dr. Don Goldmann explains the first step of quality improvement – Finding an aim and problem worthy of your QI efforts. Determining what ticks people off about their practice environment can be key to creating your problem statement.
What is the Model for Improvement and the PDSA cycle?
Familiar with the PDSA cycle? If you have been using MOC Section 3 activities in your professional practice, you have likely already been engaging in quality improvement.
Developed by Associates in Process Improvement, the Model for Improvement (MFI) is the most widely used QI model in health care 5. The MFI starts with you asking yourself three guiding questions that are then used as you test change interventions during various PDSA (Plan, Do, Study, Act) cycles.
The three guiding questions are 5,6
What are we trying to accomplish?
What problems are you addressing?
What do you know about your problem?
What evidence exists around the problem?

How will we know that a change is an improvement?
Change to process or outcome?
What domain of quality are you measuring? (i.e. safety, timeliness, effectiveness, efficiency, equitability, patient-centeredness)

What changes can we make that will result in improvement?
What solutions are you exploring?
What evidence do you have that this solution will address your problem?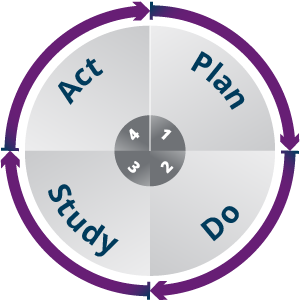 Sample: PDSA Cycle Implementation
What area of practice gets you excited to further examine and improve? The table below provides an example of a quality improvement PDSA cycle from planning to acting.
PROBLEM:
Trocar placement for laparoscopic cholecystectomy leads to reduced visualization and trocar clashing.
AIM:
Improve trochar placement technique.
MEASURES:
Initial optimal placement prevents operative complications by improving visualization.
STEP
ACTION
EXAMPLES
PLAN

FORMULATE THE PLAN

Identify An Area Of Practice You Wish To Assess And Improve (Think Small Scale First And Various Iterations)
Identify Questions You Want Answered, Make Predictions About Outcomes
Determine Logistics For Carrying Out The Cycle (Who, What, Where, Timeframe)

Better placement of trocars when performing laparoscopic cholecystectomy.
Does ease of and improved trocar placement improve visualization and therefore improve patient outcomes?
Plan to have a colleague scrub in for x amt of lap choles. First one Monday at 0800, seek specific feedback on trocar placement technique through direct observation.

DO

EXECUTE THE PLAN

Record Observations, Problems, And Any Unintended Or Surprising Consequences

Received feedback of trying reverse Trendelenburg patient positioning when inserting trocars or spacing the trocars further
Noted spacing the trocars (measuring two fists from first trocar) will avoid trocar clashing.
Some difficulty coordinating colleague O.R. observations and schedules

STUDY

ANALYZE DATA

Compare Current Practice Performance To Original Predictions, Existing Standards, Or Feedback Received From Trusted Colleagues/Other Individuals
Record What Was Learned In The Process

Learned about different patient positioning techniques when inserting trocars and possible specific benefits to each.
Improved visualization and reduced average intra-operative complications, like bleeding or bile duct injury.

ACT

QI PLAN MODIFICATIONS - WHAT'S NEXT?

Inventory Of What Worked And What Didn't
Identify Further Changes To Be Implemented In The Next Cycle
Continually Improve Your Practice And Repeat

Using different possible positioning techniques for trocar insertion to be carried forward.
Plan to create a peer observation schedule well in advance of O.R. booking.
Seek out different peer observers to balance the workload.

Adapted From Taylor et al. 2014 7
References
Wong, B. M., Baum, K. D., Headrick, L. A., Holmboe, E. S., Moss, F., Ogrinc, G., ... & Frank, J. R. (2020). Building the bridge to quality: an urgent call to integrate quality improvement and patient safety education with clinical care. Academic Medicine, 95(1), 59-68.
Levinson, W., & Wong, B. M. (2021). Aligning continuing professional development with quality improvement. CMAJ, 193 (18), E647-E648.
Campbell, C., & Sisler, J. (2019). Supporting learning and continuous practice improvement for physicians in Canada: a new way forward. Summary report of the future of medical education in Canada (FMEC) CPD project.
Yousefi, V., Asghari-Roodsari, A., Evans, S., & Chan, C. (2020). Determinants of Hospital-based Physician Participation in Quality Improvement: A Survey of Hospitalists in British Columbia, Canada. Global Journal on Quality and Safety in Healthcare, 3 (1), 6-13.
Agency for Healthcare Quality. (2013). Module 4. Approaches to Quality Improvement. AHRQ. https://www.ahrq.gov/ncepcr/tools/pf-handbook/mod4.html
Institute for Healthcare Improvement. (2021). How to Improve. http://www.ihi.org/resources/Pages/HowtoImprove/default.aspx
Taylor, M.J., McNicholas, C., Nicolay, C., Darzi, A., Bell, D. and Reed, J.E., (2014). Systematic review of the application of the plan–do–study–act method to improve quality in healthcare. BMJ quality & safety, 23 (4), pp.290-298.
National Library of Medicine. (2021). Finding and using health statistics: Health data sources https://www.nlm.nih.gov/nichsr/stats_tutorial/section3/index.html
Agency for Healthcare Quality. (2018). Data Sources for Health Care Quality Measures. https://www.ahrq.gov/talkingquality/measures/understand/index.html
Centers for Medicare and Medicaid Services. (2020). CMS measures management systems blueprint https://www.cms.gov/Medicare/Quality-Initiatives-Patient-Assessment-Instruments/MMS/MMS-Blueprint